Winter Wedding Inspiration
With my busiest season(s) of the year coming to an end, I've finally had some time to look for inspiration for the weddings I'm working on in the coming winter months. So today, I thought I would share with you some sources of winter wedding inspiration.
There is just something about a winter wedding that is so magical and romantic. I looked to Pinterest for 2016 winter wedding inspiration: seeking out trends, color palettes, and any unique details that I can use on my brides in the upcoming season. Here's just a quick breakdown of my favorite bridal hair and makeup looks for this winter:
For makeup:
I was drawn to a few different looks. First, I love the look of a soft, feminine palette; with rosy cheeks and neutral eyes. I love creating a faux-natural flush – like you've just been out in the cold. It's a really beautiful, romantic look.
But at the same time, I was equally drawn to dark, statement lips, with lots of lashes and strong brows. I love the idea of bringing the colors of the season into the bride's makeup. It is a mystical look, that provides a dramatic contrast to all of the white, airy details that we often associate with winter weddings.
For hair:
I gravitated towards a few different styles that incorporated elements of the season. I'm particularly fond of updos for winter weddings, as they compliment special seasonal accessories (think: high-neck dresses, capes, and sparkly headpieces).
I also came across a few breathtaking images of brides with natural, textured waves and loose braids, with statement flowers & branches. I loved this juxtaposition of sweet and wild.
[Image Source]
[Image source]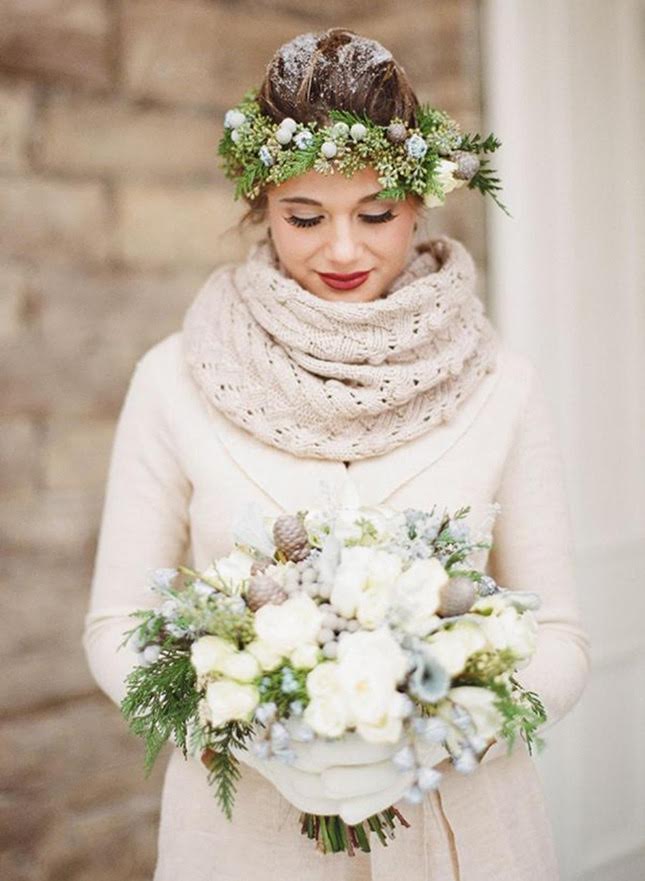 [Image source]
[Image Source]
[Image source]
[Image Source]
[Image Source]
[Image Source]
What are your favorite winter wedding looks?!
*Disclaimer: All of the images shown above were taken from Pinterest. I have linked to the source of each image appropriately.*